Bibliograph: Open Source Online Citation & Library Management
Bibliograph is a powerful open source web application for the collaborative collection, editing and publishing of bibliographic data.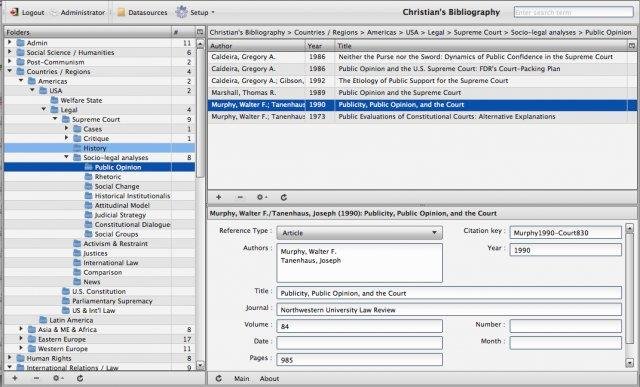 Bibliograph
is an application that lets you collect, edit, and publish bibliographic data collaboratively on the web;
has a modern and intuitive user interface that makes the daily life of working with bibliographies and library collections easy and fun;
allows researchers, librarians, teachers and students work together online without having to install software locally;
is fully open source and free to download, install, use and adapt to your particular need.
Bibliograph can be used by
scholars and librarians who want to publish a library collection or a thematic bibliography online;
groups of researchers who work together in a research project and want to collect and share bibliographic references;
professors and teachers who want to share bibliographic information with their students.
Features
Organize bibliographic records in static folders or dynamic collections based on queries;
Rich metadata, Autocompletion and duplicate detection;
Allows natural language queries like "title contains hamlet and author beginswith shake";
Fine-grained access control system with users, roles, groups and permissions allows flexible user management and contol of who is allowed to view, enter, edit and delete data;
Unlimited amount of separate databases;
Imports data from library catalogues (through Z39.50 interface), from various file-based data formats (RIS, BibTeX, Endnote, MODS, and more), and from RSS feeds.
Export into various open formats and publish folders as RSS feeds;
Formats bibliographic records with various citation styles (APA, Chicago, ...) using CSL templates and the citeproc style processor (http://citationstyles.org);
Ability to create and restore snapshot backups of individual databases;
LDAP integration to connect to existing LDAP servers;
Optionally provides a user forum;
Fully open source, can be easily adapted and extended by plugins.
More ...